It's the perfect alignment of two Hollywood clichés.
The first is the old country redneck, somewhere out in the sticks. You know type. Jeans. Twang. Loves to hunt. Tinkers with cars, trucks and tractors. His yard is cluttered with rusty old machines (think Mater in the movie Cars) being used for parts or that he might someday get working again. Garage is almost a lean-to wood shed. The walls are lines with hub caps from every machine he's owned (or had the pleasure to work on).
The second is the highly creative urban youngster who does his own form of tinkering, making art from junk. You can often see him picking through the neighbor's' garbage to extract all the "useful" stuff, and making amazing (or hideous) works of art. Think Spencer from iCarly, perhaps a little less accoident-prone.
When these two worlds collide – and they do collide – you get hub cap sculptures. Yes, hubcaps are one part of a car that can live on long after the last drop of oil has been squeezed out of its veins. Here are a few samples of hubcap sculptures that are sure to bring out the oohs and ahs.
Every wonder how much you would pay for a dragon? This one sold for £3,000

If a dragon is too much to handle, maybe a lizard is easier.
A creature this size could really bug your neighbors.
Perhaps for your fish tank instead, and under water BMW?
If you have a larger tank.
Hoot. Hoot.

Most (not all)of the animal hubcap sculptures above were done by British artist Ptolemy Elrington (pictured here with a menagerie of his works). But others have also found unique and colorful ways to turn old hubcaps into modern art.
A Mediaeval army camp
Could this be the world's biggest wind chime?
Fabergé never made an egg on this scale.
When the world order is threatened, Hubcap Man to the rescue.
And, or course, Hubcap Lady.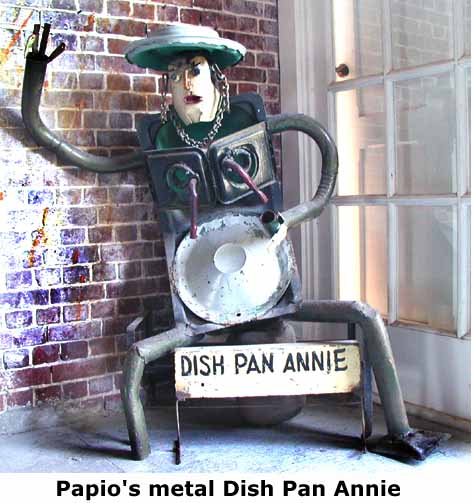 And here is a ring only Hubcap Man is big enough to wear.
If you have trouble making real flowers grow, how about a hub cap flower garden?

Or wall flowers.
And this is a…a…umm…yes, that's exactly what it is.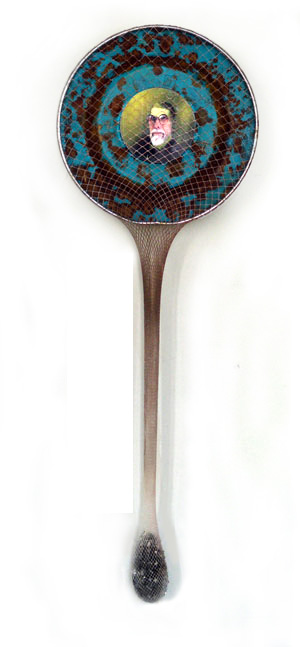 And so is this!
But what if you collect too many hubcaps for all your art projects? I wanted to ask Spencer, but it seams his cell phone got buried inside a 500-pound Raspberry Jello sculpture of the Venus de Milo. So here's our idea…
By Tony of http://www.monsterauto.ca