Government
Government agencies
Metro Wheels and Accessories Inc. is well situated to provide Factory Steel wheels for Fleet service vehicle such as Police cars, service trucks, and county inspection vehicles. We are the approved distributor for the manufacturer of the steel wheels in the state of Georgia.The primary manufacturer of the steel wheels is Kelsey Hayes Lamertz. Metro Wheels was able to come to an agreement with the manufacturer to be their Primary distributor for Georgia.
Doing business with Metro Wheels will provide you direct access to the manufacturer of the Steel wheels and cut out the middle man. Most municipalities use an auto parts store or dealership to buy their steel replacement wheels. Metro Wheels can provide you a substantial discount off of what the dealerships and auto parts stores are providing.
If you are working for a government agency and are interested in getting our prices for Replacement factory steel wheels, then call us now at 770-423-0440 or email us at sales@metrowheels.net
Below - you will find the most common types, but not necessarily all of the wheels used on Government issued vehicles.
Metro Wheels and Accessories Inc.
County and City Fleet Management
8043B
(3 holes- GM police car 15" steel)
New - $ 85.00
Take-off/used $65

3536
- 16" Crown Victoria, Grand Marquis (12 slots)
New $85.00
Take offs $65.00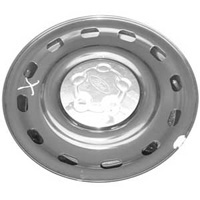 3498
- 16" Crown Victoria, Grand Marquis (7 holes)
New $85.00
Take offs $65.00
3670
– 17" Crown Victoria (10 hole)
New $ 85.00
2344
18" steel charger wheels/ 5 spoke black steel
New $98.00
2240
17" steel charger wheels- 10 hole black
Take off's $65.00
G.D.O.T. Heavy Duty wheels
16x6
(4 oval hand holes - 8 lug - steel – BP 8 on 170mm)
New - $ 85.00
17x6.5
Years thru 2005-current
(4 oval hand holes - 8 lug - steel – 8 on 200mm)
New - $ 135.00
19.5x6
(5 Hand holes – 8 lug – steel – 8 on 225mm)
New $160.00
Ford F450 and F550
19.5x6
Years 2005 - current
(5 oval hand holes – 10 lug – steel – 10 on 225mm)
New $160.00
***Prices are subject to availability***
Ford F650
19.5 x 6.5
(5 Oval hand holes – 8-lug steel)
New $110
Ford F650
22.5 x 8.25 10-lug
(5 Oval hand holes –10 lugs – steel 10 on
New $160
***Prices are subject to availability***
Call us Now at 770-423-0440